Options
Mark as New

Mark as Read

Bookmark

Subscribe

Email to a Friend
Submitted by
Xioxify
on
‎2012-11-07
07:37 PM
I Know this is not my idea, but I think it will be a good feature for Spotify because of it's popularity.
Just like Sony branded products such as Media GO, Playstation and Walkman, SensMe playlist is a good feature to have a playlist full of same mood.
Addiotional info for SensMe:
SensMe works by mapping music to a dual axis map based on the mood and tempo of music tracks. Mood and tempo is determined by using the appropriate Sony compatible software which analyzes music tracks individually and computes the relevant track information. Analyzed tracks can then be plotted onto an intuitive dual axis map through which the music library on the device can be navigated, and playlists can be generated based on relative speed and mood. The horizontal axis is based on mood and the vertical axis is based on tempo.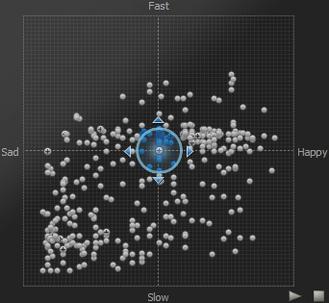 Hello!

Your idea has been submitted over 1 year ago but unfortunately hasn't gathered enough kudos. In order to keep an overview of the active ideas in this forum, we will close this idea for now. However this does not mean that your idea has been declined by Spotify.

If you still feel strongly about your request, we encourage you to post your idea in a little different form again!
Maybe now is the right time to receive the support of our community for your suggestion! 😉

Do you have any further questions on how the idea exchange is managed? Just click here!