Options
Mark as New

Mark as Read

Bookmark

Subscribe

Email to a Friend
[iPad] Bring back the old Layout with 2 Panels
Submitted by
Puddingdwarf
on
‎2017-04-12
11:16 AM
Today the Ipad app was updated to change the layout to be the same as the Iphone app with the nav bar at the bottom. All i can say is why? Why would you do this? The Ipad app used to essentially use two halfs of the screen serepatly, the left side being the previouse pannel you were on and the right being the one you are on. This worked perfectly and meant you could swap between playlists and tracks easily and it meant there was NO wasted space.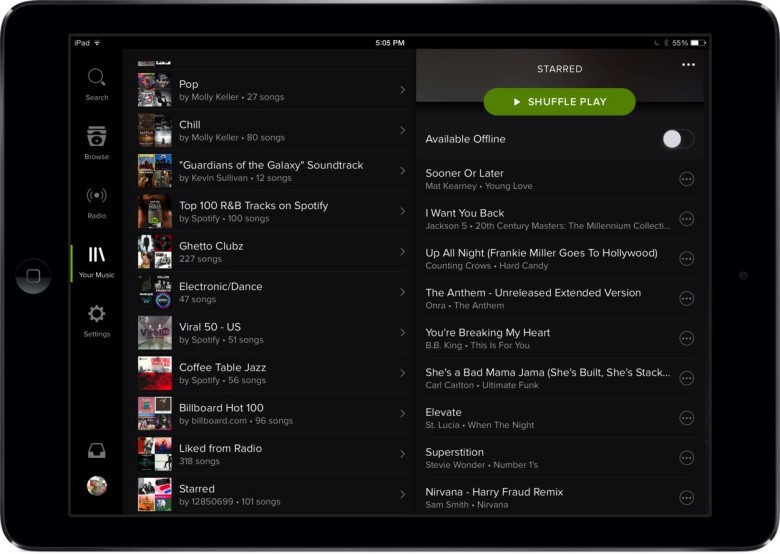 This previouse layout was clearly designed for Ipad and worked perfectly and was very userfriendly so WHY WHY WHY would you change it to this: (attachment)
Pretty much 80% of the screen is wasted blank space and there is no way to easily see what playlist you are playing. Basically each pannel seen in the image of the previous layout now fills the entire screen and you have to use a back arrow at the top left to go to other pannels. This NEEDS to change, it is not acceptable to change a perfectly good layout to one designed for a much smaller screen for seemingly no reason, the only update note is that they changed the layout to that of Iphones so this update was completely pointless and just ruined the layout. The nav bar being at the bottom is unnecissary, there was nothing wrong with it being at the side. Whats happened is a high up who has no idea about what people want or anything about thier own app have told thier team to bring out an update because one hasnt been out for a while even though thier is no need for one.
I seriously hope more people get on Spotifys **bleep** about this because this needs to be changed because frankly it less userfriendly then the previouse layout and ugly AF.
Once again we see a software provider updating thier software for no good reason only to make things worse, these companies need to understand that thiers nothing wrong with leaving something the way it is. If it aint broke dont fix it!
Updated on 2019-08-29
Hi there!
Your idea was submitted a while ago and unfortunately didn't receive the amount of kudos needed to stay active in the ideas board (100 Kudos per year).
In order to keep the Ideas Exchange clearer I'll close this idea for now, but this doesn't mean Spotify rejected this idea.
If you think this is an idea which needs to be implemented, you're welcome to post it in a slightly different form 🙂
More info on how the Ideas Exchange is managed can be found here.
Find more ideas tagged with: