Community 10th Anniversary - Music Highlights
Community 10th Anniversary Music Highlights
A bit of history...
June 2009, I became a premium user of Spotify. It's soon 13 years that I discover daily new artists and new music. February 8, 2012 the Spotify Community launched. February 9, 2012 I registered to the Community. This February 2022, the Community is celebrating it's 10 years.
When I was asked for this blog-post celebrating musically the event, I have been looking for the best way to try to illustrate these 10 last years. It's not a secret that I am a deep music lover since I was a kid, that means long long time ago. For me, Music is as much emotional as an energy giver. I love the artists able to transmit these feelings through a tone of voice, an instrument, a melody, an attitude on stage. I am so eclectic in my music taste than it was many ways to accomplish this task. Finally, I have chosen 10 female artists with 10 albums who have, for various reasons, enchanted my 10 last years.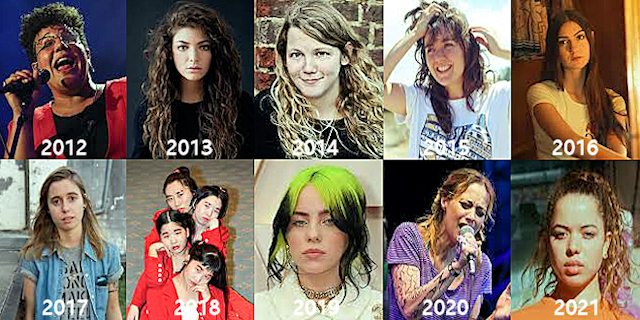 2012. Brittany Howard
American musician, singer, and songwriter, Brittany Howard is best known as the lead singer and guitarist for the American rock band Alabama Shakes. Formed under the name "The Shakes", the band began playing shows at bars in Alabama and recording their debut album, Boys & Girls. They signed a record deal with ATO Records, and released Boys & Girls in 2012 which received critical acclaim and multiple Grammy Award nominations. With this debut album, Brittany brought her Soul Music to this year 2012.
spotify:track:3zzZVLdBKRW8JH7GhFPyvu:small
2013. Lorde
In 2013, the 16yo New Zealand singer-songwriter Lorde brought to the world her fresh indie electro-pop music. Her debut studio album Pure Heroine received a critical and commercial success. It peaked at number one on the Billboard Hot 100, making her the youngest artist to earn a number-one single in the United States since Tiffany in 1987. Rising Star of this year 2013, Lorde revealed her unconventional pop sound and introspective songwriting.
spotify:track:2dLLR6qlu5UJ5gk0dKz0h3:small
2014. Kae Tempest
Born in 1985, Kae Tempest is an English spoken word performer, poet, recording artist, novelist and playwright. At 16 she started to study at the BRIT School for Performing Arts and Technology in Croydon. Samuel Beckett, James Joyce, W B Yeats, William Blake, W H Auden and Wu-Tang Clan are some of Tempest's influences. Receiving wide critical acclaim for her written and live work, her brilliant debut album Everybody Down, which lighten up the year 2014, was nominated for the Mercury Music Prize.
spotify:track:0Gm8b2S6XNNL79SPIxlsVN:small
2015. Courtney Barnett
This year, Courtney Barnett, Australian singer, songwriter and musician, released her debut album Sometimes I Sit and Think, and Sometimes I Just Sit and won four awards from eight nominations at the ARIA Music Awards. Courtney has developed a very personal songwriting and style. Using mostly left-hand constructed guitars, she learned to play on acoustic guitars, and developed her own method of fingerstyle guitar which she later translated to use on the electric guitar giving strenght to her solid Folk-Rock music.
spotify:track:35W5DUFuOJQt2a7dBmgE2z:small
2016. Weyes Blood
Californian born, Weyes Blood is an American singer, songwriter, and musician. Signed to the independent label Mexican Summer, she released in 2016 the album Front Row Seat To Earth to critical acclaim, and toured throughout Europe and the States. Her style is influenced by sacred music and sacred space music, but also by the Velvet Underground, Wolf Eyes and experimental artists. Let's enjoy her Psychedelic-Folk.
spotify:track:74WubJcYTCD1CGhfTgr3ix:small
2017. Julien Baker
Born and raised in suburban Memphis, Tennessee, Julien Baker is an American singer, songwriter, and multi-instrumentalist. In 2017 she signed to Matador Records and released her second studio album Turn Out The Lights. Her music has been categorized as a mix of indie rock, indie folk, alternative, and emo and noted for its moody quality and confessional lyrical style. She explores issues as spirituality, addiction, mental illness, and human nature. Opened to collaborate with many artists, Julien Baker is one of my favourite singer-songwriter.
spotify:track:3jt1ZVIuluGkV0sWWLSUzw:small
2018. CHAI
CHAI are a Japanese band from Nagoya. Consisting of four women, Mana, Kana, Yuuki and Yuna, the band released in Japan their debut studio album Pink in October 2017. In February 2018, Pink was given a US release by Burger Records, who signed them after being impressed by one of their music videos. Developing an Experimental Electronic Pop colored with some Disco-Punk, their various influences range from Basement Jaxx, Jamiroquai, Gorillaz, and CSS to The Chemical Brothers, and electronic groups such as Chvrches and Justice. Difficult to resist to their energy.
spotify:track:3TfXvwdf6yZ2gqPVfD3YkJ:small
2019. Billie Eilish
After first gaining public attention in 2015 with her debut single Ocean Eyes at 14, Californian born Billie Eilish, American singer and songwriter continuously gained fame until her first studio album When We All Fall Asleep, Where Do We Go? in March 2019. Working with her brother singer, songwriter, musician, producer Finneas, Billie has developed a personal ethereal whispering style matching her soprano vocal range. Commercialy indie pop, her music incorporates touches of dark pop, electropop, emo pop, experimental pop, goth-pop, teen pop, and alt-pop.
spotify:track:2Fxmhks0bxGSBdJ92vM42m:small
2020. Fiona Apple
The oldest but not least talented artist of our retrospective, Fiona Apple is an American singer-songwriter, musician, born in New York City. Her debut album, Tidal was released in 1996 and received a Grammy Award for Best Female Vocal Rock Performance for the single Criminal. 2020 saw her come back with her acclaimed fifth studio album Fetch the Bolt Cutters eight years after the last one The Idler Wheel... in 2012. Her brilliant last album, Fetch the bolt Cutters which consists of 13 self-produced tracks, was released on April 17, 2020. At the 63rd Annual Grammy Awards, the album won Best Alternative Music Album and the lead single Shameika won Best Rock Performance.
spotify:track:2pDKE8Q40TDGPl1O11DKKn:small
2021. Nilüfer Yanya
For covering 2021, it was possible to chose some mainstream artist, but I made the choice of Nilüfer Yanya who is an English singer, songwriter and musician, born in London in 1995, daughter of two visual artists. She is trying to involve her family in her career, with her younger sister Elif sometimes performing with her as a backing singer and her elder sister Molly directing her music videos. Her album Inside Out shows her ability to jump between musical and lyrical styles. Her music is combining influences from indie rock to soul, jazz, and trip hop.
spotify:track:35nfO92JtV6Nhv3CgHpS7P:small
I wish everyone in the Community a Happy 10th Anniversary.

5 Comments
You must be a registered user to add a comment. If you've already registered, sign in. Otherwise, register and sign in.