Options
Mark as New

Mark as Read

Bookmark

Subscribe

Email to a Friend
[All Platforms][Your Music] Improve user experience of Your Music / playlists 10K cap
Submitted by
TimGraffam
on
‎2015-10-21
05:13 PM
I realize there are already several threads regarding increasing the 10,000 Your Music / playlist limit. While I am one of many who feel this needs to be increased, that's not what this "Idea" is about.
The problem is Spotify does a terrible job at how this limitation is handled. If the 10,000 cap won't / can't be increased, please at least consider making the following updates to fix issues around dealing with the cap.
Provide some type indication additional songs can't be added. Please at least add some type of message to show Your Music / Playlists have been maxxed out. It'd be great if this was on the Your Music / Playlist pages and in the action of (trying to) add songs to those areas.
Prevent adding to Your Music or Playlists once the limit has been reached. In addition to the above message, how about not allowing to Save or Add to playlists that have reached the limit? Saving to Your Music (through Save or +) will sometimes show as "Saved" or "checked" indicating it's been added even though it was not. Closing the client and opening again usually will revert back to unsaved / unchecked. Adding songs to playlists that have been maxxed out shows no indication songs were not actually added.
Fix the reliability of adding songs once approaching the 10K limit. I've reached the 10,000 song limit with one playlist so far (in addition to Your Music, though there's no numeric indicator there). At some point after hitting the max, I noticed I only had ~9,800 songs, so some songs went missing / deleted at some point (and I'm 100% I didnt remove them). This has happened on two separte occasions now. In fact, now the max appears to be 9,820 as I cant add any more songs after reaching this number.
Spotify, I love you. Really I do. Even with this limitation, I can't recommend your service enough. I won't be one of many here who makes (false) threats of leaving your for another service, because frankly, there isn't a better option out there (I've tried nearly all). I'm an avid music lover (as my large collection indicates) and love all of the ways you provide to Discover new music (you so get me with my Discover Weekly playlist). Unfortunately the 10K cap, and even worse, how this max is handled, has made using the service difficult and frustrating lately.
Obviously, increasing the 10K would be the ultimate solution, but I assume either a performance (slow downs over that amount) or legal (Music contracts dictate max "saved music") issue is the sole reason this isn't possible today. So please, at least consider providing a better user experience around this cap for those "1%" of us who use your service the most.
Thank you for the consideration!
Updated: 2015-11-23
Hello everyone,

Thank you for posting this idea and adding kudos.
When you reach the limit of Your Music & Playlists, there is now a pop up that informs you about the 10.000 cap. You might still want to add your kudos to the idea about increasing that limit right here.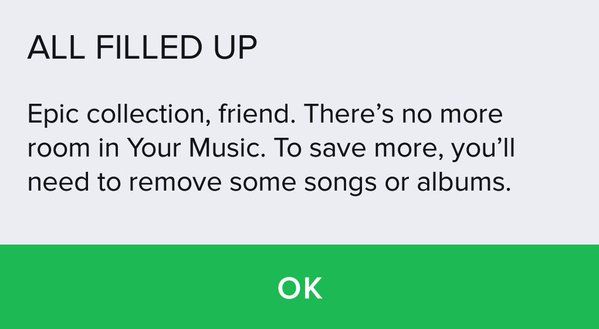 Thanks again for all your feedback.
See more ideas labeled with: