Options
Mark as New

Mark as Read

Bookmark

Subscribe

Email to a Friend
Shuffle all music on mobile device
Submitted by
patglennon
on
‎2012-03-12
08:44 PM
Posted by user jayafink on the support side of things:

[quote] Can you shuffle all of the playlists and tracks within on the Ipod Touch? I made lots of playlists by artist name, with hundreds of tracks in all of them. In spotify itself you can click on "library" under "collection" to shuffle all of it, but there is no "collection" or "library" buttons on the Ipod app. It seems you can only shuffle within a particular playlist and not all of them on the Ipod. Is that true or am I missing something? [/quote]

I wholeheartedly concur. I am an album guy so I am alway creating offline available playlists for individual albums. But sometimes it's good to put all music in play randomly. Doesn't seem to be supported on the mobile version currently.

Can we see this feature at some point?
Updated: 2015-11-18
Hey everyone, with Your Music you can now shuffle all Songs on your mobile device.
Just go to Your Music > Songs > Shuffle. Enjoy!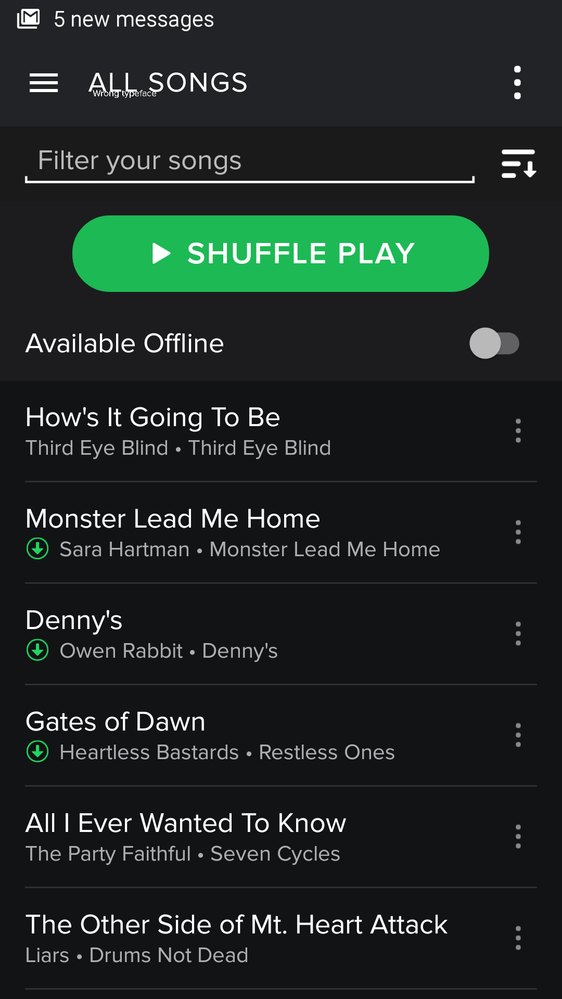 Find more ideas tagged with: