Options
Mark as New

Mark as Read

Bookmark

Subscribe

Email to a Friend
Use Spotify PC app to control another Spotify device
Submitted by
agraham
on
‎2014-11-30
12:15 AM
I have an old laptop hooked up to my stereo for playing Spotify (typically with the screen closed) and I've been using a third party app called Spotimote to control it.
Now there's Spotify Connect which is great but it's missing one thing: if I'm using my regular PC I'd like to be able to control the music PC through the regular Spotify app instead of having to pick up my phone and fiddle with the Android version of spotify.
So my request is: make the PC app a controller as well - as far as I can see there's no way to do that right now.
Bonus:
If that was done I'd be able to use an old phone instead of a laptop as the music playing device that I have hooked up to my stereo (or maybe some day a Chromecast or Android TV if you ported the Android app to those)
EDIT: michel123 points out that this idea is already implemented in the beta. Nice!
Latest beta is at http://community.spotify.com/t5/Help-Desktop-Linux-Mac-and/Welcome-to-the-Desktop-Beta/td-p/932803
Updated: 2015-12-20
Hello everyone,

Spotify Connect on the desktop version should now be available.
You can control your other devices from the Desktop: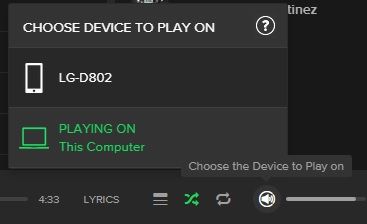 Enjoy this (Premium) feature and thanks for bringing your feedback to the ideas exchange! 😉