Options
Mark as New

Mark as Read

Bookmark

Subscribe

Email to a Friend
[Mobile] Remove current Song from Playlist
Submitted by
Hansholz
on
‎2012-02-21
01:07 PM
Hi
This is a usability improvement for the Mobile devices. Sometimes I want to remove songs from a playlist. This is currently quite a long task to perform on the mobile device.
I first have to select the right playlist.
Then I have to locate the song, which is not listed alphabetically. They are listed in the order I built the playlist with the oldest first and newest last.

Some of my playlists have up to 900 songs in them and scrolling slowly can be difficult and timeconsuming.

Then click on the "pencil" icon and delete the track I don't want.
I think it would be a better user experience if we could delete songs as easy as it is to add them to a playlist.
So here's a suggestion for the mobile app, look there's even a space for it on the info page!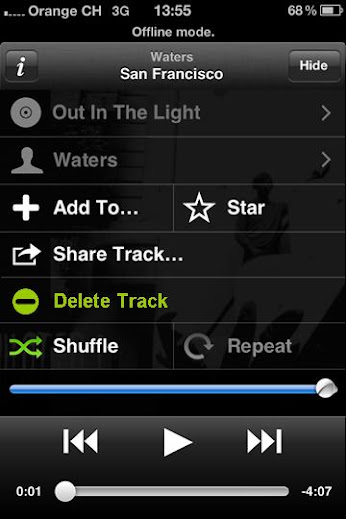 Cheers
J
_____________________
UPDATE 3 June 2017
I have been contacted by user eviljojo22 who has developed a Plugin that creates a playlist named "Remove from Spotify" and every 45 minutes minutes it deletes every song in it and also in every playlist in which that same song appears (which may not be what you want). However, this is an option that may help you before Spotify gets round to providing this very simple function. Good luck (and Thank you EvilJojo22)
Connect on https://spotify-playlist.eivo.fr
_____________________
UPDATE 7 February 2019
I have been contacted by user bamboony who has developed an android app that might solve the problem in the short term:
https://play.google.com/store/apps/details?id=org.bamboomy.delete.deletespotifytrack
_____________________
UPDATE 15 February 2022
They delivered! This feature now exists. Click the three dots while playing a track and select the option "Remove from this Playlist"
Updated on 2019-07-09
Hey Folks,
Since 2012, there are a couple of features that speed up removing songs from playlists.
On Android, you can find tracks quickly by clicking the three dot menu in the playlist and heading to the 'Find in Playlist' option - this will bring a search bar where you can type the name of the song or artist. On iPhone, you can find the search bar by pulling down on the Playlist screen. Once you've found the track, you can click the three dots next to the song and click 'Remove from this Playlist' - even whilst the track is playing. The song will continue, but be removed from the playlist.
From the playlist menu you can also sort your playlist by Title, Recently Added, Artist, Album or Custom.
We'll keep this idea open and if there are any updates about adding a remove song button to the menu on the 'Now Playing View', we'll post them here.
Thanks!
See more ideas labeled with:
Find more ideas tagged with: