Reply
Topic Options
Mark Topic as New

Mark Topic as Read

Float this Topic for Current User

Bookmark

Subscribe
A Different April 2017 (daily new releases)

Soundofus
Spotify Star
Mark as New

Bookmark

Subscribe

Mute
#NewMusicFriday #DiscoverDaily
2017 week 14 : from March 31 to April 6, 2017

Selected and added : March 31- 40 tracks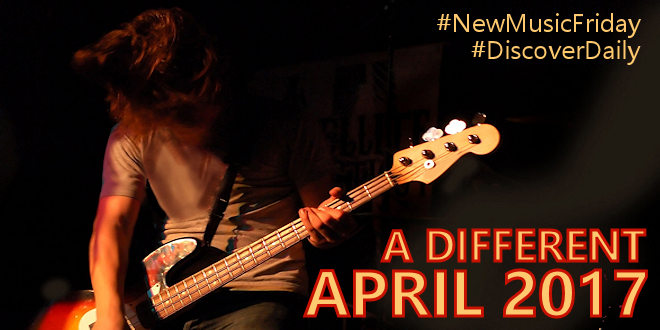 March has been another very good month with brilliant indie/alternative releases. We start April with a selection of tracks mostly released in today's New Music Friday. As always, be the first to Discover the new indie releases on Spotify before most of the other monthly/yearly playlists on the place.
As usual this playlist is a carefully handpicked selection of new releases, including #NewMusicFridays releases and other daily releases all along each week, gathering together well known, less known and unknown artists, selected through only one filter : My ears considering what is interesting. This playlist is updated daily until the end of the month.
As the usual subscribers know, this playlist is the best way to discover alternative quality new music in different genres as : Indie Rock, Psychedelic, Indie Pop, Soul, Funk, Hip Hop, Electro Pop, Electronic, Indie Folk, Folk Rock.
Note : As any selection, this compilation is totally subjective and represents only Soundofus taste and choice.
To start April, listen to :
Dan Auerbach : new single
The Delta Saints : new single
British Sea Power : from new album
The Buttertones : from new album
White Denim : new single
Left Lane Cruiser : new single
Tired Lion : new single
Tigercub : new single
Wire : from new album
Broken Social Scene : new single
The Kooks : new single
Midas : from new album
Los Angeles Police Department : new single
Charlotte OC : from new album
Tall Ships : from new album
The Moth Gatherer : new single
Yaeji : from new albuù
Goldfrapp : from new album
Tei Shi : from new album
Sneaks : from new album
Bad Pony : new single
ROMANS : from new EP
RAT BOY : new single
Bleachers : new single
Jamiroquai : from new album
D/troit : from new album
Bob Dylan : from new album (Sampler)
Julia Holter : from new album (live)
Aimee Mann : from new album
Coco Hames : from new album
Sonia Leigh : new single
ZZ Ward : new single
Cold War Kids : new single
Front Porch Step : from new album
The Future West : from new album
JR JR : new single
Say Anything : new single
Conner Youngblood : new single
Flora Cash : new single
Chaz Bundick Meets The Mattson 2 : from new album (instrumental)
Additional Keywords : 2017, Monthly Playlist, April, New Releases, Dream Pop, Indie Electro
Help others find this answer and click "Accept as Solution".
If you appreciate my answer, maybe give me a Like.
Note: I'm not a Spotify employee.