Reply
Topic Options
Mark Topic as New

Mark Topic as Read

Float this Topic for Current User

Bookmark

Subscribe
A Different February 2017 (daily new releases)

Soundofus
Spotify Star
Mark as New

Bookmark

Subscribe

Mute
#NewMusicFriday #DiscoverDaily
2017 week 05 : from January 27 to February 2, 2017

Selected and added : February 1 - 35 tracks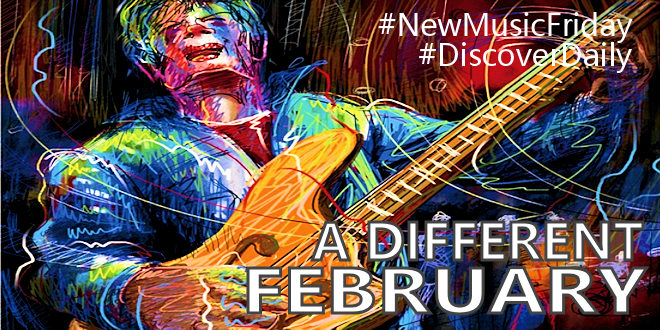 January has been starting this new year with many brilliant indie/alternative releases. We start February with a selection of 35 tracks mostly released in the last days of January. Be the first to Discover the new indie releases on Spotify before most of the other monthly/yearly playlists on the place.
Started seven years ago the monthly "Different" playlist will keep to be the only one gathering together well known, less known and unknown artists, selected through only one filter : My ears considering what is interesting.
As usual this playlist is a carefully handpicked selection of new releases, including #NewMusicFridays releases and the other daily releases all along each week. This playlist is updated daily until the end of the month.
No compromise in this playlist. It's not because a song or an artist is trending that it will be added if it's not fitting what I like. As the usual subscribers know, this playlist is the best way to discover alternative quality new music in different genres as : Indie Rock, Psychedelic, Indie Pop, Soul, Funk, Hip Hop, Electro Pop, Electronic, Indie Folk, Folk Rock.
Note : As any selection, this compilation is totally subjective and represents only Soundofus taste and choice.
To start January, listen to :
Future Islands : new single
The Magnetic Fields : new single
Day Wave : new single
The Jungle Giants : new single
Dr. Dog : from new album
Matt Pond PA : new single
Sean Rowe : new single
The Tragic Thrills : from new album
Bob Dylan : new single
Mac Demarco : new single
The Picturebooks : new single
The Menzingers : new single
The Sadies : new single
Dolly Spartans : from new EP
Kngdavd : new single
SKATERS : new single
Barisal Guns : new single
Mount Zamia : new single
Leopold and His Fiction : from new album
Las Kellies : new single
The Glorious Sons : new single
Ensemble : from new EP
Vagabon : new single
Big Wreck : new single
FOAM : new single
VanderAa : from new EP
Palmas : new single
Sarah Shook & The Disarmers : new single
Banes World : new single
Royal Wood : from new album
Caroline Spence : new single
Paris Street : from new EP
Promised Land Sound : new single
Del Water Gap : new single
Bruce "Mississippi" Johnson : new single
Additional Keywords : 2017, Monthly Playlist, February, New Music Friday, Dream Pop, Indie Electro
Help others find this answer and click "Accept as Solution".
If you appreciate my answer, maybe give me a Like.
Note: I'm not a Spotify employee.