A Different July 2019 (daily new releases)

Soundofus
Spotify Star
Mark as New

Bookmark

Subscribe

Mute
#NewMusicFriday #DiscoverDaily
2019 week 26: from June 28 to July 4, 2019

Selected and added : July 1 - 30 tracks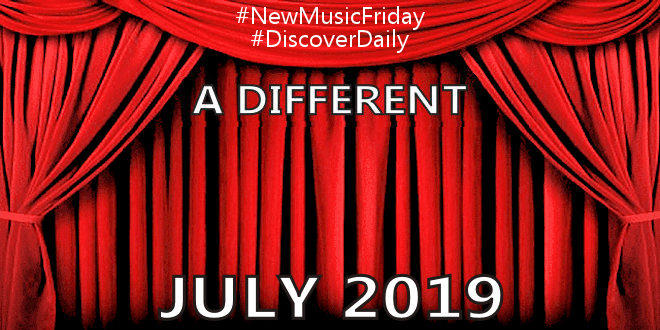 June was a good month for indie / alternative music with 570 releases featured in the monthly playlist. On this first day of the month, we start "A Different July" with 30 new tracks carefully handpicked.
Be the first to Discover the new indie releases on Spotify before most of the other monthly/yearly playlists on the place. Be sure that we add only tracks we have listened and that are pleasing us. If you don't find a song, it will come surely the next days or never, if we don't select it.
Started eight years ago the monthly "Different" playlist will keep to be the only one gathering together well known, less known and unknown artists, selected through only one filter : my ears considering the quality of their music.
As usual this playlist is a carefully handpicked selection of new releases, including #NewMusicFridays releases and the other daily releases all along each week. This playlist is updated daily until the end of the month.
Note : As any selection, this compilation is totally subjective and represents only Soundofus taste and choice.
To start July, listen to :
Sly Withers, Carla Geneve : new single
The Vitrines : new single
Fripps & Fripps : from new EP
Deadbeat Beat : new single
Giant Sand : new single
Big Wolf Band : from new album
Tyler Bryant & the Shakedown : from new album
Face Command : new single
Fight Ibis : new single
Ice Cream : new single
Chair Model : from new EP
Girl Friday : from new EP
The Bells : new single
Glowing : new single
The Spring Peaks : from new EP
Port Royal : new single
Leisure Club : new single
Tijuana Panthers : new single
GRLwood : new single
Sonntag : from new album
Ghost Funk Orchestra : new single
North Mississippi Allstars, Mavis Staples : new single
The Allman Betts Band : from new album
Beat Root Revival : new double single
MoonFuzz : from new EP
The Appleseed Cast : from new album
Andy Burns : new single
Inning : new single
Case : from new EP
Sergeant : new single
Additional Keywords : 2019, Monthly Playlist, July, New Music Friday, Daily Releases, Discover Daily
Help others find this answer and click "Accept as Solution".
If you appreciate my answer, maybe give me a Like.
Note: I'm not a Spotify employee.
Reply
Topic Options
Mark Topic as New

Mark Topic as Read

Float this Topic for Current User

Bookmark

Subscribe