[New Releases] A Different September 2021 (daily updates)

Soundofus
Spotify Star
Mark as New

Bookmark

Subscribe

Mute
-------------------------------------------------------------------------------------------------------------------
Note : this topic is NOT for song/album or playlist submission. Any answer other than comment about the content of this post, will be removed. Thanks for your understanding.
-------------------------------------------------------------------------------------------------------------------
#NewMusicFriday #DiscoverDaily
2021 week 35 : from August 27 to September 2, 2021

Selected and added : September 1 - 30 tracks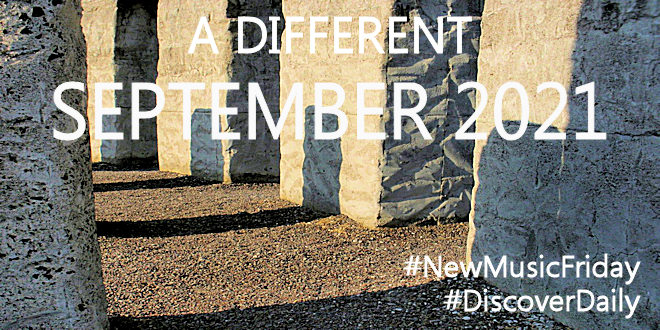 Vacation time is almost over. August was a great month for Indie / Alternative Music with 510 songs featured in our monthly playlist. On this first day of the month we are starting September playlist with 30 carefully handpicked new releases.
Be the first to Discover the new indie releases on Spotify before most of the other monthly/yearly playlists on the place. Be aware that we add only tracks we have listened and that are pleasing us. If you don't find a song, it will come surely the next days or never, if we don't select it.
Started ten years ago the monthly "Different" playlist will keep to be the only one gathering together well known, less known and unknown artists, selected through only one filter : my ears considering the quality of their music.
As usual this playlist is a carefully handpicked selection of new releases, including #NewMusicFridays releases and the other daily releases all along each week. This playlist is updated daily until the end of the month.
Note : As any selection, this compilation is totally subjective and represents only Soundofus taste and choice.
For starting September, listen to :
* Johnny Marr * Cold Years * Bat Fangs * Honeyburst * Last Hounds * The Queers * The Jukebox Romantics * Monkey Mind * Lost Love * Desperate Acts * Pizza Crunch * TENDOUJI (Japan) * Table Scraps * La Luz * LIGHTERS (Japan) * Tiny Dancers * THE PINBALLS (Japan) * Gulfer * Blue Bendy * Loose Buttons * Lionlimb * Robert Levon Been * Duran Duran * Pixey * Jeremy Ivey, Margo Price * Kamasi Washington (Metallica cover) * Maika Loubté * Sierra Ferrell * David Ferguson, Margo Price * Runnner, Skullcrusher *
Additional Keywords : 2021, Monthly Playlist, September, New Music Friday, Daily Releases, Discover Daily
Help others find this answer and click "Accept as Solution".
If you appreciate my answer, maybe give me a Like.
Note: I'm not a Spotify employee.
Reply
Topic Options
Mark Topic as New

Mark Topic as Read

Float this Topic for Current User

Bookmark

Subscribe