Reply
Topic Options
Mark Topic as New

Mark Topic as Read

Float this Topic for Current User

Bookmark

Subscribe
39 people liked this
Delete duplicates from Spotify playlist in minute - guide
Edited
Options
Mark as New

Bookmark

Subscribe

Email to a Friend
Community Legend
‎2012-05-25
05:06 PM
Hey to everyone.
UPDATE: IF YOU DON'T WANT TO FOLLOW THIS GUIDE, THERE IS A LITTLE TOOL WHICH WORKS STRAIGH AWAY WITH YOUR ACCOUNT AND DETECTS ANY DUPLICATES. http://jmperezperez.com/spotify-dedup/
Tired to watch duplicates 24/7 in your playlist? I show how you can delete all duplicates from your Spotify in less than one minute! Rate and comment my guide. I know everything about Spotify.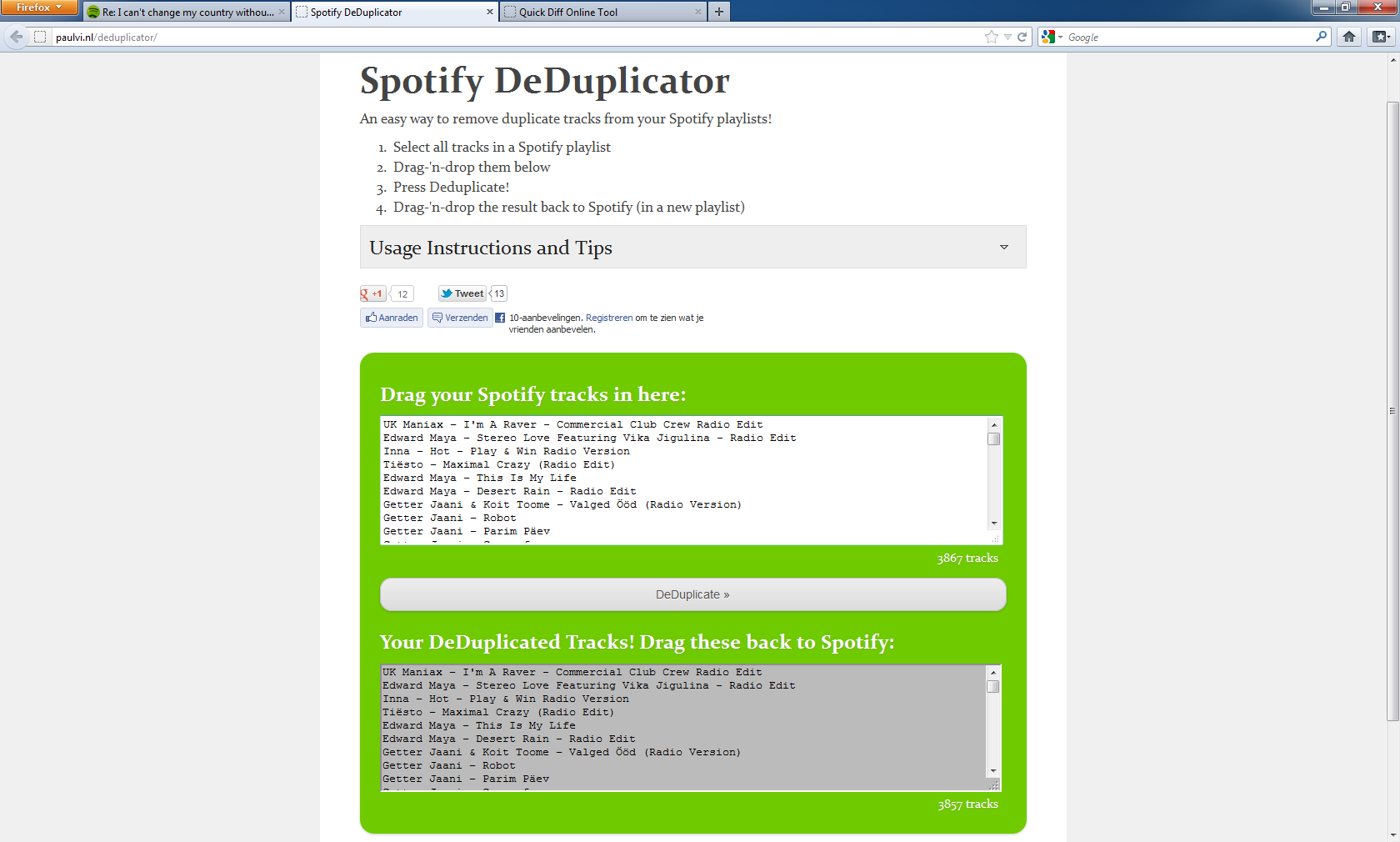 Go to this site http://paulvi.nl/deduplicator/. Please go to your Library or playlist in Spotify and select all tracks. Then copy and paste to Word/this forum/other software that convert those to text like in picture and then to this site in link. Then click DeDuplicate. Danger: do not close this page at all for a while. Also text is better than links because you may added duplicates where Spotify url is different, so this tool does not show those as duplicates when you use links for comparing.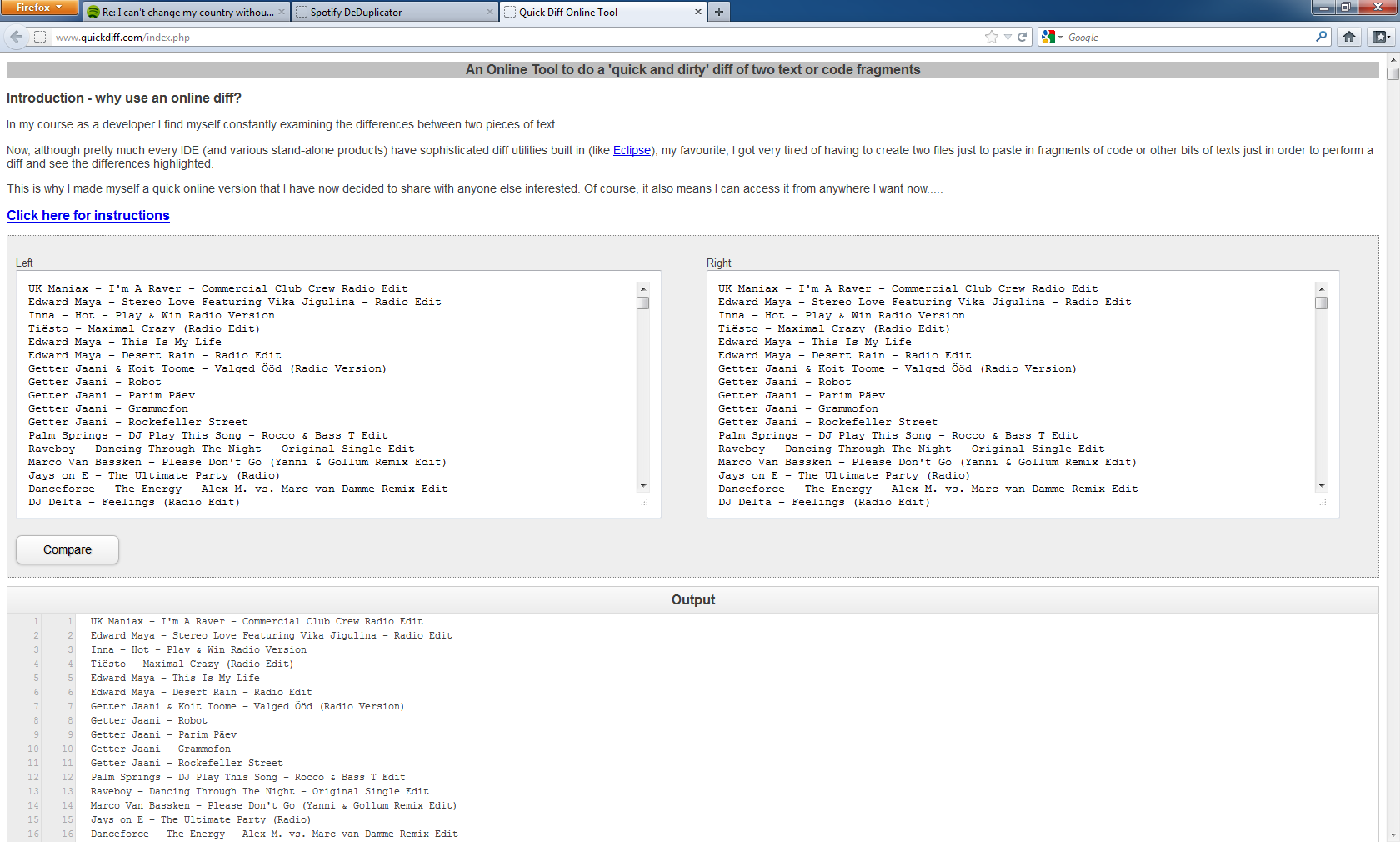 Go to this site http://www.quickdiff.com/index.php. Go now to previous site. Copy and paste first box to left side & copy and paste second box to right side. Now compare.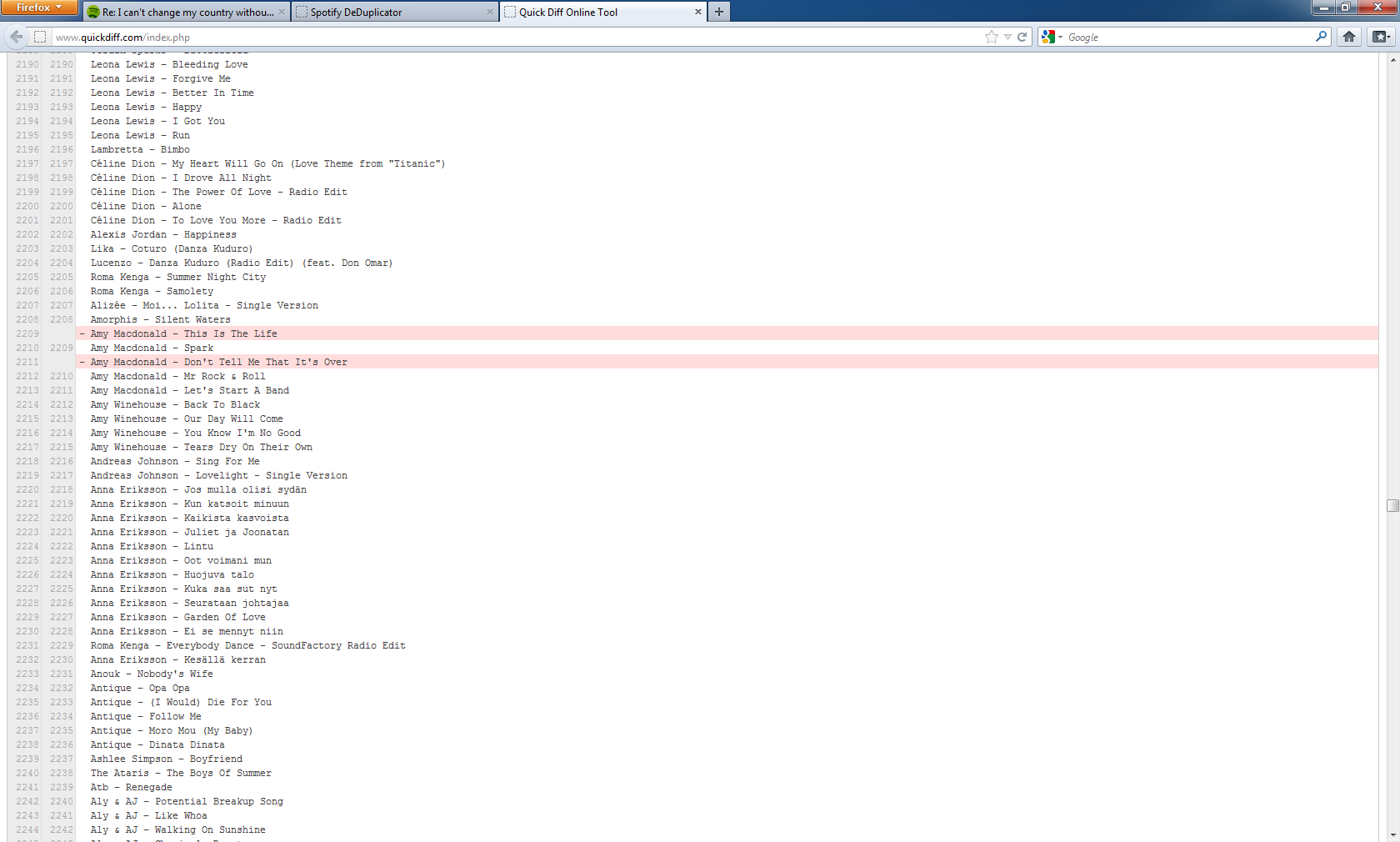 Now just scroll and see all those highlighted lines (duplicates).
Search those now from Spotify playlist and delete (Search bar in Windows: CTRL + F). You may also want to check duplicates from Starred list view or Library view at the same time. Enjoy!
Hope this help! Big credits to anyone who created those awesome tools for us!!! However why Spotify does not provide a tool inside Spotify? But before this official tool, you can use my guide. I really like Spotify now, it's just simple to listen music and now realised how to listen without those duplicates... Really I can remember when I searched those manually. :D
Dancecore streaming everywhere with unlimited 2M/2M mobile 3G network.