Submitted by
Peter__
on
‎2013-05-11
05:17 PM
Options
Mark as New

Mark as Read

Bookmark

Subscribe
Please note: Discovery is only in the rollout phase, so if you don't have it yet don't panic! It will come your way at some point in the future.
This idea leads on from the inital discussion on this idea.
Problem:
In the current discovery tab, there is no way to remove recommended content you don't like, or need to see a second time.
Solution:
Similar to this idea about being able to blacklist artist/albums/tracks, there should be a simple "x" button on each suggestion in the discovery tab with an option to remove this recommendation.
Want to remove an artist entirely from Discover? That idea has been suggested here.
Again, the Last.fm app gives you the ability to remove recommendations, simply by pressing the "x" symbol on the image: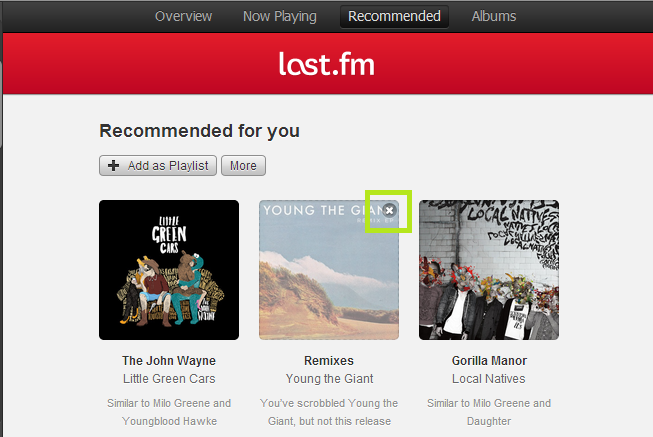 Peter
Edit: This idea has been reposted here.
Updated on 2018-06-16
Hello!

Your idea has been submitted a while ago but unfortunately hasn't gathered enough kudos (100 per year). In order to keep an overview of the active & recent ideas in this forum, we will close this idea for now. However this does not mean that your idea has been declined by Spotify.

If you still feel strongly about your request, we encourage you to post your idea in a little different form again! Maybe now is the right time to receive the support of our community for your suggestion! 😉

Do you have any further questions on how the idea exchange is managed? Just click here!