Article Options
Mark as New

Mark as Read

Bookmark

Subscribe

Email to a Friend
Options
Mark as Read

Mark as New

Bookmark

Email to a Friend
One of our values is Inclusion: no one should feel unseen or unheard. We believe in celebrating each person's unique talents, interests, and backgrounds. June is Pride month so there's no better time to celebrate this! Let's tune in on Pride FM and let the music take over!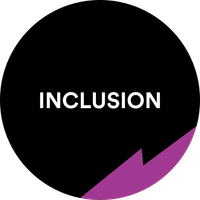 Spotify has been celebrating Pride for many years with campaigns such as: 'Unlike Any Other' (2020) or '#PressPlayForPride' (2016) and we had quite a few threads here throughout the years on the Spotify Community where we share music and podcasts related to Pride.
There's loads of creators that are part of the LGBTQIA+-community sharing their story on Spotify through music and podcasts. Let's give it up for music and podcasts featuring LGBTQIA+ people, hand-picked by the folks from the Spotify Community.
'What's Up?' by 4 Non Blondes
We'll tell you what's up! This iconic track from an all-female band with a lesbian lead singer is used in lots of shows, movies and ads (such as Sense8, @Katerina!) and really became a Pride anthem. This song is a real classic that has been with us for decades.
https://open.spotify.com/track/0jWgAnTrNZmOGmqgvHhZEm
#queerAF (podcast)
This award-winning podcast is all about sharing inspiring LGBTQIA+ stories, experiences and more. Listen in on loads of positivity and fun hosted by Jamie Wareham.
https://open.spotify.com/show/3wiN3JZBJ2uqcg3R0OQDqP
Supermodel (You Better Work) by RuPaul
All the RPDR (Rupaul's Drag Race) fans out there should recognize this one! RuPaul is a real icon in the LGBTQIA+-community and meant a lot for drag queens all 'round the world. This track from 1992 was one of his first songs breaking through to the mainstream audience.
https://open.spotify.com/track/1AAwAM9IjTlvi8x10kc2I1
LGBTQ&A (podcast)
This podcast features interviews with the most interesting queer folks from all over the world! All topics that you can come up with are chatted about here, a safe space to discuss everything.
https://open.spotify.com/show/37E7LIv89GodYNEBAWREd8
Never stop celebrating!
And... Pride doesn't just stop here. This thread features just a few tracks and podcasts that are out there. There's much more to celebrate and to discover. Check out more Pride through music and podcasts!
Share your Pride playlists, tracks or podcasts in one of these threads:
... or start your own Pride thread!
Check out the Spotify Community Pride-playlist we've made:
https://open.spotify.com/playlist/3LYjA51edADs1Ncua7vQJv
Discover more LGBTQIA+-powered music, stories and podcasts on the Pride-hub.
Wishing you a great Pride month, filled with lots of love,
The Spotify Community 🌈
5 Comments
You must be a registered user to add a comment. If you've already registered, sign in. Otherwise, register and sign in.