How can I get an issue fixed?
54,767 Views
Mark as New

Bookmark

Subscribe

Mute
Answer:
If you notice something isn't working as it's supposed to, there's a chance other users are experiencing the same thing.
Our
Ongoing Issues board
houses all reports of specific app issues. We use it to inform our developers and get things fixed as soon as possible. It's also where we keep everybody up-to-date about each issue.
Find the Ongoing Issues board
Open the Community menu

in the top-right.

Select Help.
Select Ongoing issues near the top of the Help topics.
Search for your issue
In the Ongoing Issues board, click the Search bar, making sure you have 'This category' selected. Type keywords you think fit the issue best. A list of existing topics will generate in the drop-down menu.
Or you can browse the topics with the categories at the top, e.g. 'Under investigation'.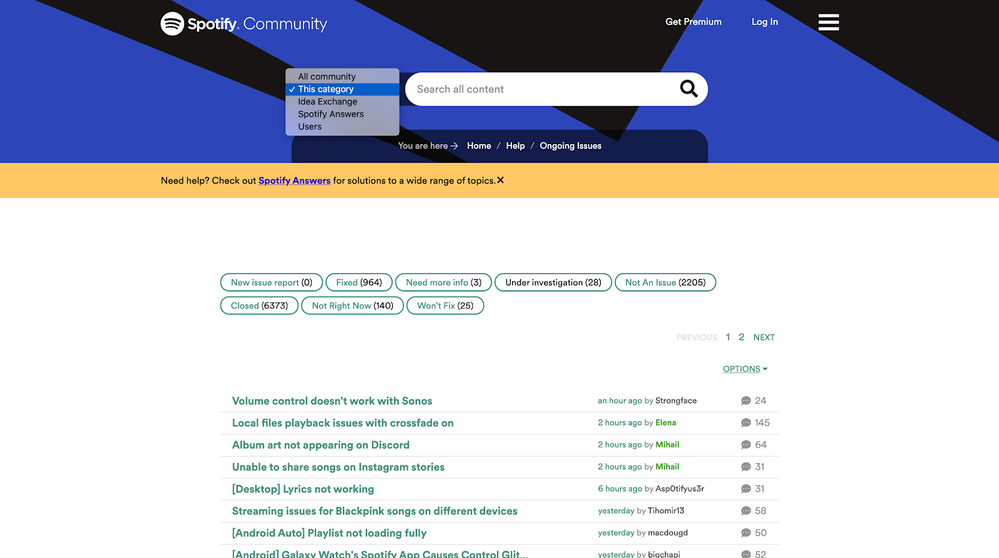 Find your issue?
If you find an ongoing issue that sounds like what you're experiencing, you can check out the latest on it in the Status Update. Learn what our different Status Updates mean here.
If the Status Update is "Under Investigation", be sure to join it by hitting +VOTE and following the instructions in the Status Update.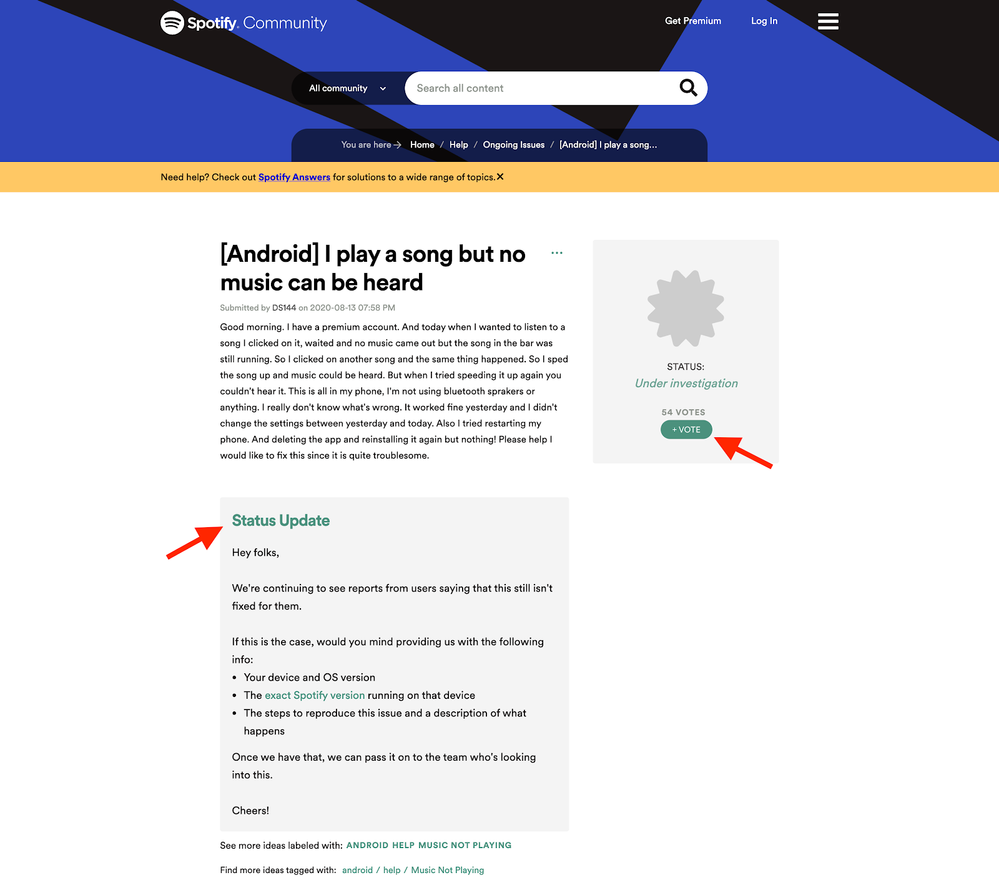 Didn't find your issue?
You might find it in our Help section instead, where our Moderators and Rock Stars (expert users) help each other out:
Open the Community menu

in the top-right.

Select Help.
Choose a category and look for posts from other users with the same issue you're having. If you find one, be sure to comment that you're also experiencing it and include your device and Spotify version. This will help us investigate the issue.

Our community users work with the information and users in the post and comments to help fix the issue. Larger threads and popular topics then get moved to the Ongoing Issues board.
Still can't find it?
If you're the first person to report this issue, you can create your own topic:
Choose a help category, and then hit START A TOPIC.
Choose a simple title that you think describes the issue best. This makes it easy for other people to find your topic.
In the Body section, you can describe the issue. You can also choose to attach screenshots if you think it helps to describe what's going on.
Make sure to include all necessary information:
- Your device
- Your device's operating system
- Spotify app version
- Clear steps to reproduce the issue
Your topic will be posted so other users, Rock Stars, and Community Moderators can help you further. If it gets lots of comments and likes, we'll move your post to the Ongoing Issues board.