Reply
Topic Options
Mark Topic as New

Mark Topic as Read

Float this Topic for Current User

Bookmark

Subscribe
Artists Wanted Edition No 13 - Submissions

Soundofus
Spotify Star
Mark as New

Bookmark

Subscribe

Mute
Hey everyone!
Time is flying so fast. Christmas is a few weeks from us. The Community Music Chat Team would be pleased if upcoming artists could offer a gift to the whole Spotify Community by submitting their new releases to the Thirteenth Edition of Artists Wanted: Share Your Talent With The Community.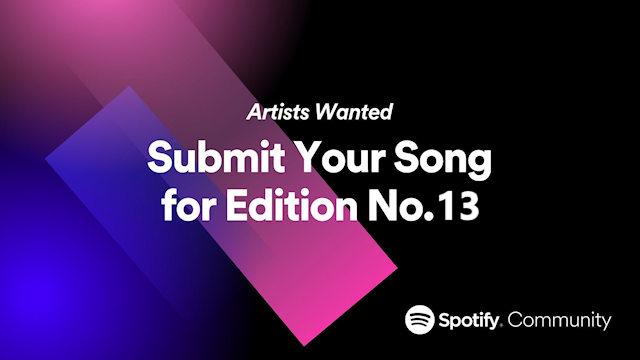 How does "Artists Wanted Edition No 13" work?
On a regular basis, we (the Community Music Chat Team) will post a thread (like this one) looking for submissions, so keep an eye out!

Artists participating have to be members of the Community and have a Spotify artist account.

Artists are welcome to post their original songs and intros in a comment below (only one comment per band/artist please).
Note:

If an artist has already participated in a previous edition of this project, they can submit again only with a new release of theirs.
Questions artists should answer to participate
Artist/Band name:

Where are you based:

Main genre of music:

Describe your sound/music in a few words:

Spotify link to one of your most recent original song (from 2023) which you'd submit in priority to the Community's users:

Handle for one social media of your choice:

Who are your musical inspirations:

Is there anything else you'd want to add to help users to get to know you better:
The Community Music Chat Team will go through all submissions, and propose a few for the entire Community to vote on. Once the results are in, we'll contact the winner, and they will be featured in our Community blog!
When will submissions and voting occur?
Artists submissions: from November 13 to December 3 (Midnight Pacific Time)
Community vote: from December 11 to December 17 (Midnight Pacific Time)
Where to participate?
We'll hand it over to you, artists on the Spotify Community - post your answers to our questions in a comment below. Don't be shy, we'll be very glad to hear your tracks and read your replies!
Note - We ask artists to submit only original songs and not covers. Also, artists should not post/embed videos, as we'd like to keep the ground fair for smaller artists with lesser budgets.
P.S. When it comes to choosing the winning artist, we'll give equal chance to the finalists to gather votes from the forum's users; so don't get discouraged if you enter your submission at a later point and don't gather too many likes in this thread.
If a song is selected for being submitted to the Community vote, artists are allowed to mention it to their followers, in Spotify, as in Social Medias. Please be fair with all contestants and support participation with our Community by asking them to listen to all submissions.

We also reserve the right to refuse songs if the song content is in breech of Community guidelines. Should this happen we'll aim to reach out to you and discuss the decision.
WARNING : Submissions posted after the limit date or song from the previous years, won't be taken in count.
Good Luck Everyone...
Help others find this answer and click "Accept as Solution".
If you appreciate my answer, maybe give me a Like.
Note: I'm not a Spotify employee.