A Different December 2018 (daily new releases)

Soundofus
Spotify Star
Mark as New

Bookmark

Subscribe

Mute

Email to a Friend
#NewMusicFriday #DiscoverDaily
2018 week 48 : from November 30 to December 6, 2018

Selected and added : November 30 - 30 tracks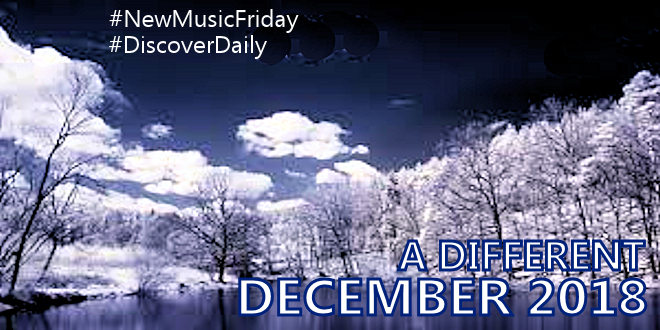 November was a slow month for indie / alternative releases with only 420 tracks featured in the monthly playlist. On this New Music Friday, December is starting with 30 featured new releases. Be the first to Discover the new indie releases on Spotify before most of the other monthly/yearly playlists on the place.
Started eight years ago the monthly "Different" playlist will keep to be the only one gathering together well known, less known and unknown artists, selected through only one filter : My ears considering what is interesting.
As usual this playlist is a carefully handpicked selection of new releases, including #NewMusicFridays releases and the other daily releases all along each week. This playlist is updated daily until the end of the month.
Note : As any selection, this compilation is totally subjective and represents only Soundofus taste and choice.
To start December, listen to :
Spector : from new EP
Guided By Voices : new single
Arctic Flowers : from new album
Bob Mould : new single
Emigrate : from new album
JAWS : new single
Circa Waves : new double single
The Reverend Horton Heat : from new album
Pottery : new single
SWMRS : new double single
Arctic Monkeys : new double single
Foxwarren : from new album
Badflower : new single
The Mountain Goats : from new EP
Michael Chapman : new single
The Brian Jonestown Massacre : new single
Grimes, HANA : new single
Perfect Son : new single
Le Butcherettes : new single
You Tell Me : new single
Sharon Van Etten : new single
Hippo Campus : new Spotify single
TOY : new single
TEEN : new single
Michelle Blades : new single
Manchester Orchestra : new single
Kina Grannis : new single
Telekinesis : new single
Jeff Tweedy : from new album
Van Morrison : new single
Additional Keywords : 2018, Monthly Playlist, December, New Music Friday, Daily Releases, Discover Daily
Help others find this answer and click "Accept as Solution".
If you appreciate my answer, maybe give me a Like.
Note: I'm not a Spotify employee.
Reply
Topic Options
Mark Topic as New

Mark Topic as Read

Float this Topic for Current User

Bookmark

Subscribe